Meet Dr. Deann Lanahan
Afraid of seeing a Chiropractor?
Don't want your neck "twisted"?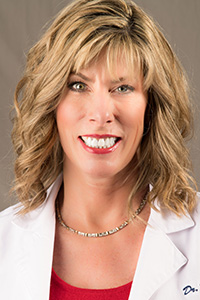 The most common thing I hear from someone who has never been to a chiropractor is that they are afraid of the adjustment or of having their back "cracked" or their neck popped! Now, they don't have to in order to be adjusted!
Certified Instrument Adjusting
I am excited to tell you that I am Certified in Instrument Adjusting. That means adjustments are performed with an electrical, low-force instrument that is specific, gentle and effective. That's right…no "cracking". After exploring the research and listening to patient's needs, I  converted to using the Impulse IQ adjusting instrument. My patients and staff love it and I received certification in February 2010. The Impulse IQ can be used on the back and neck as well as shoulders, wrists, elbows, hips, knees and the TMJ (jaw) joint..even feet!
Chiropractic Philosophy
I have been enjoying practicing chiropractic for 31 years in Cincinnati and have treated over 16,000 patients. I am proud to say that most of our new patients choose our office because of a satisfied and happy relative or friend that referred them. Of course, we welcome all new patients to the office, regardless of how they heard about us. My chiropractic adjustments are gentle and specific using the Impulse IQ  and my examinations thorough.
Chiropractic Education
Originally from NYC, I attended Stonybrook University in Long Island for my undergraduate degree followed by Cleveland Chiropractic in Kansas City, where I received my Doctorate Degree. After ten years of practice, I returned to the classroom to obtain my post-graduate certification in clinical orthopedics from National University in Chicago, Il. This advanced study allows me to design effective treatment plans and rehabilitation programs to strengthen and stabilize the spine once healing has had time to occur. I enjoy further study annually while obtaining continuing education credits to stay current with evidence-based medicine.
In 2013, I completed 200 hour certification as a Pilates instructor through Pendleton Pilates. This has furthered my ability to help people take control of their health through exercise and to protect the spine with core strengthening.
Living the Chiropratic Lifestyle
In my free time, I like to explore all Cincinnati has to offer. I enjoy hiking, kayaking and anything that involves being outdoors. My dog Max loves the water and is always by my side.  In the warmer months I am active growing food in an organic garden.  It's an amazing experience to grow your own food!
Enough about me! I look forward to meeting you in person and finding out how I may be of service to you. Give Withamsville Chiropractic Center a call or email me at the link below and we can set a time when we can explore your options.
---
Withamsville Chiropractic Center | (513) 753-0066