New! MLS Laser Therapy
We are pleased to offer our patients cutting-edge technology in pain relief with the addition of our MLS robotic laser.
We have invested in the very best technology in our quest to offer you the finest in health care and provide rapid return to every-day activities.
What is MLS Laser therapy?
The MLS laser is a Class IV medical laser that uses multiple wavelengths simultaneously to reduce inflammation and pain. It was cleared by the FDA in 2002 and can be used to treat a variety of acute injuries and chronic pain. It can be used on the spine and neck as well as hips, knees shoulders, wrists, ankles, and feet (plantar fascitis and even diabetic neuropathy related foot pain). Photons of laser energy penetrate deeply into tissue and accelerate cellular reproduction and growth. As a result of exposure to the MLS laser, the cells of tendons, ligaments and muscles repair themselves faster. In simple terms, laser speeds recovery. Best of all, there are no known side-effects and it is safe and effective!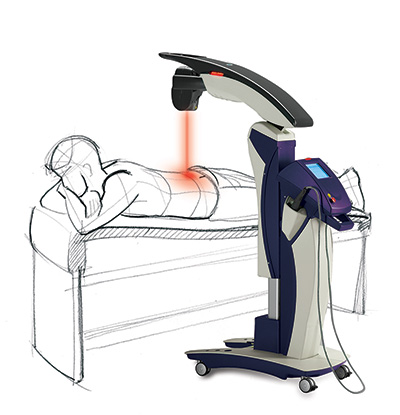 How long does treatment take?
Treatment times are usually 10 minutes. As a general rule, acute cases (new injuries) require 6 visits and chronic conditions 10 treatments.
Testimonials
---
I have been having knee problems for a few years due to arthritis and a "trick" knee that would come out of place. Standing or walking for more than 15 minutes was a real problem. After reading about laser therapy, I decided to give it a try and I'm so glad I did. My knees are feeling so much better and I'm able to stand and walk for longer periods of time!! I would highly recommend laser therapy. -Pat D.
"My laser treatments have been very beneficial to the joints in my hands and fingers. It has been well worth the cost to have these treatments." -Mary P.
"Dr. Lanahan, and everyone on her staff, is friendly and very knowledgeable. I am seeing improvement in my neck & back problems from treatment with the MLS Laser and instrument adjustments by Dr. Lanahan. So glad I found the Withamsville Chiropractic Center!!!" -Craig S.
"It has changed my life" -Anonymous
"Amazing" – Anonymous
"I am thrilled with the improvement I have after 8 laser treatments on my shoulder. Dr. Lannahan and her staff are great! I recommend this practice to anyone in need of relief from a back or joint issue!"-Julie H.
"Before I decided to try MLS Laser Therapy I was dealing with chronic neck and shoulder pain; my upper trapezius was constantly tight and the range of motion in my neck was limited. I had also broken my toe in my right foot which was very swollen and bruised. I initially had 6 treatments which were safe and painless. I felt so much better I decided to continue with an additional 6 treatments! The range of motion in my neck significantly improved, the tight knot in my upper scapula is almost completely gone, the bruising and swelling of my broken toe was reduced, and my trapezius no longer feel as though I have tight knots. I highly recommend MLS Laser Therapy to anyone with chronic pain or soft tissue injuries." -Lisa S.
---
Please call our office today at 513-753-0066 to see if you are a candidate for this advanced therapy!