Our Chiropractic Techniques
We use a number of highly-effective adjusting approaches to help improve spinal biomechanics and reduce nervous system interference. The approach we use is based on our clinical judgment and years of experience.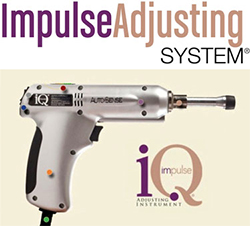 The primary adjusting techniques we use include:
Impulse IQ
This handheld instrument delivers a carefully measured and directed thrust that is many times faster than is possible by hand, so less force needed. read more»
MLS Laser therapy
Cutting edge technology that uses a robotic laser in a synchronized dual wavelength to accelerate healing and pain reduction for both acute injuries and chronic conditions. Read more about it on our MLS Laser page or call our office to see if you are a candidate for this latest therapy. read more»
Massage Therapy
Working hand in glove with chiropractic, theraputic massage can improve muscle tone and help make lasting changes to the spine. Plus it feels great! read more»
Physical Therapy
Utilizing the knowledge from her Clinical Orthopedics degree, Dr. Deann Lanahan is able to guide you through the best physical therapy exercise and rehabilitation protocols to restore you to every-day activities and to restore strength to tissues, thereby helping to reduce recurrent episodes or flare ups.
Electrical Muscle Stimulation
We use this special type of low level electrical current to stimulate supporting muscles of your spine, reducing inflammation and spasm. read more»
Intersegmental Traction
We gently add motion to each vertebral joint to increase circulation, reduce scar tissue and enhance the effectiveness of your adjustments. read more»
Nutritional Counseling and Guidance
If you've been to a chiropractor before and prefer to be adjusted in a particular way, let Dr. Deann Lanahan know. We want you to relax, enjoy and fully benefit from your chiropractic care.
---
Withamsville Chiropractic Center | (513) 753-0066